About the Blue Planet Prize
About the Blue Planet Prize
The earth is a beautiful planet that is home to a wide variety of living things. One species of life, however, has created a range of environmental problems, problems that include global warming, acid rain, ozone depletion, tropical rainforest destruction, and river and ocean pollution. It is predicted that unless this changes, the planet will no longer be healthy enough to support life, including humankind. Now is the time for us to act to protect the earth so we can pass it down to future generations.
Blue Planet Prize goes to outstanding individuals or organizations whose work have and continue to contribute significantly to the improvement of the global environment. In 1992, the Earth Summit*1 in Rio de Janeiro, Brazil brought researchers, politicians, and others working toward environmental preservation from around the world together to discuss ways to improve The Relationship Between humankind and the environment. Since, established by the Asahi Glass Foundation in 1992, the Blue Planet Prize serves to advance progress toward making the earth more sustainable. The prize is awarded to two individuals or organizations annually. Prize winners are announced in June and the awards ceremony, which features commemorative lectures by the recipients, is held in autumn.
---
Indeed, the Earth was Blue.
Have you ever heard the phrase, "The earth was blue" ? Russian cosmonaut Yuri Gargarin said this about the beauty of the earth when he saw it as the first human in space. The Blue Planet Prize takes its name from Gagarin's words as an expression of hope that we can protect this beautiful planet forever.
---
Blue Planet Prize Symbol
The Blue Planet Prize logo symbolizes the energetic activities of people working to protect the earth. The blue and white backgraound around the figure in the center represent the water and the atmosphere. People, earth, and space are combined in this symbol as an expression of our strong desire to protect our world.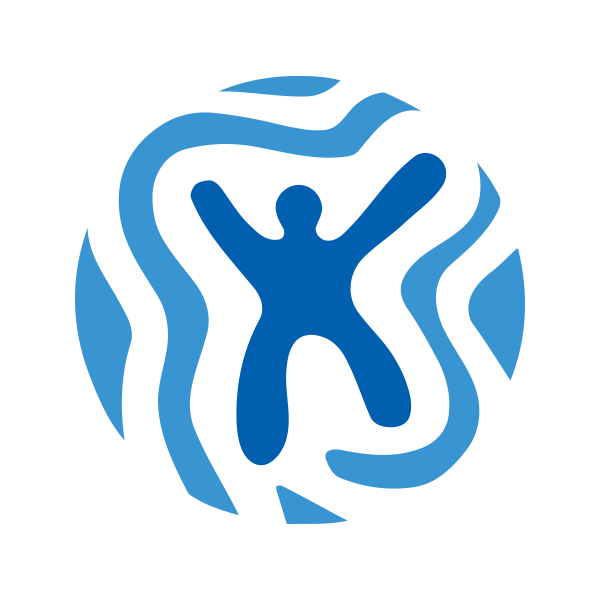 ---
Trophy
The trophy awarded to the winners was designed by Mr. Kyoichiro Kawakami, Japan's foremost glass artist. The theme of the trophy is the beautiful earth's water and atmosphere; and its simple, transparent form beautifully expresses the harmony of life and the environment.

---
Note 1: The word "summit" means the top. This conference is called a "summit" because it brings together the world's most advanced knowledge, thoughts, and excellent drive to action.